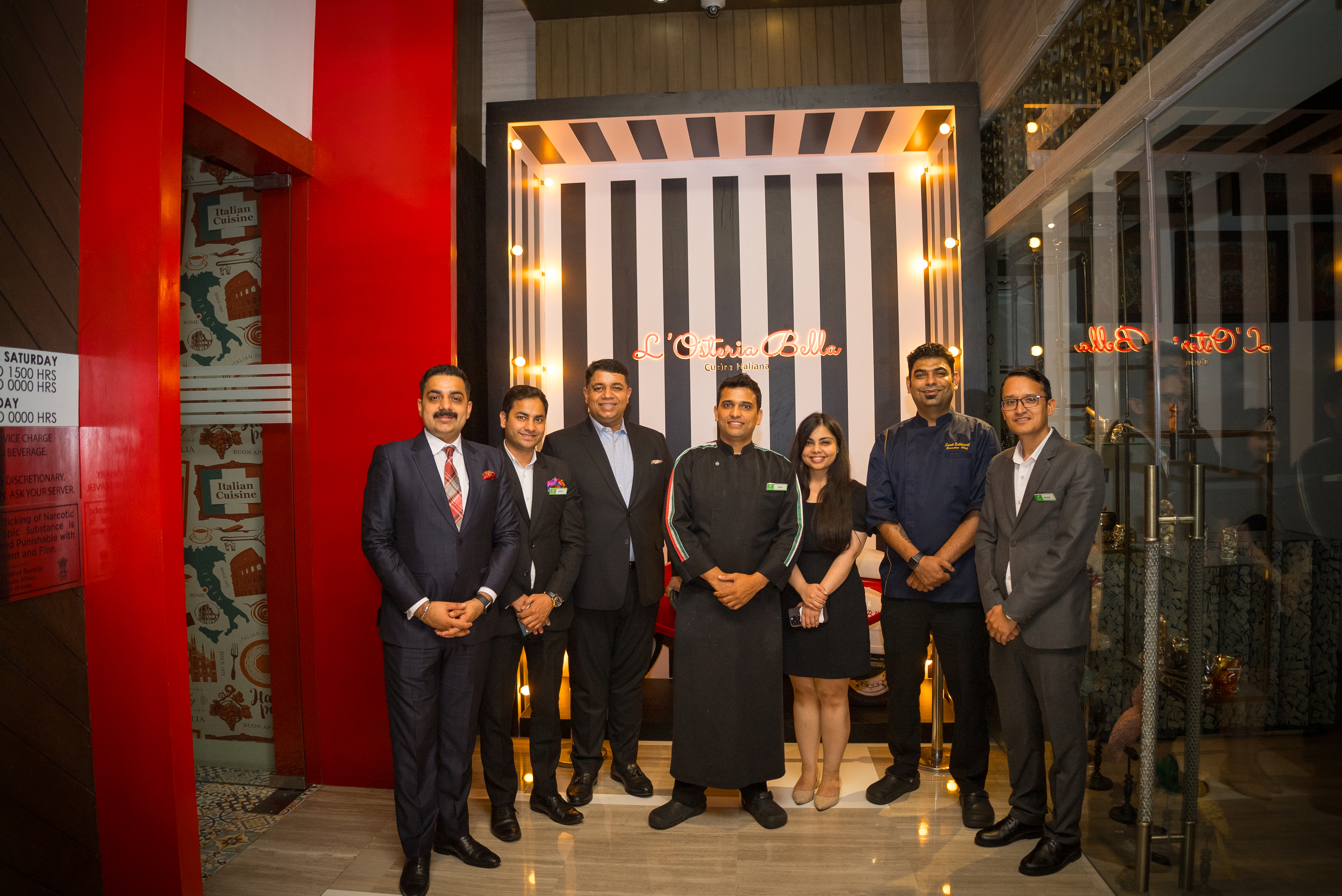 An exclusive media event was recently held at L'Osteria Bella, a captivating Italian restaurant located in the centre of the Holiday Inn Aerocity, to present its new summer menu, which captures the spirit of contemporary Italy. The August 19th event provided visitors with a sensory journey that took them to the energetic streets of modern-day Italy.
At the forefront of the event was L'Osteria Bella's sustainable initiative, evident in their thoughtfully curated new menu. The culinary expertise of Executive Chef Sumit Sabharwal and Chef de Cuisine Manoj Pandey shone through the eight-course meal, delivering a gastronomic adventure that left a lasting impression on every palate.
Located at the lobby level with a capacity to accommodate over 100 guests, L'Osteria Bella stands as Aerocity's exclusive Italian dining establishment, presenting the authentic Flavors of Italy. The restaurant spans two levels and boasts two private dining rooms, an interactive open kitchen counter, and a chic bar. Its decor is a fusion of bold and inviting colours, Italian Pop art, and trendy memorabilia, creating a visually captivating ambiance.
The highlight of the evening was the sustainable initiative reflected in the new menu. Memorable dishes such as the Barley-based Bio Farm Salad, Zuppa di Peperoni Duo, and Zuppa Di Pesce drew unanimous praise, while the Lobster dish showcased remarkable freshness. The introduction of Charcoal-based pizzas, including a signature creation, added a unique touch to the dining experience. The evening concluded on a high note with the indulgent Panna Cotta paired with red wine-infused pears. This remarkable Italian summer soirée orchestrated by L'Osteria Bella wove an unforgettable culinary tapestry, creating an experience worth treasuring and reliving.
Amit Rana, the General Manager of Holiday Inn New Delhi International Airport, highlighted the restaurant's dedication to crafting exceptional dining experiences that linger in the hearts of guests. He expressed the restaurant's commitment to embodying the true essence of Italy through their culinary artistry, underscoring the significance of the event as a showcase of their vision.
The masterminds of the meal, Chef Sumit Sabharwal and Chef Manoj Pandey, presented their insights throughout the evening, connecting with the audience with their enthusiasm and commitment to capturing the flavour of Italy in their dishes.
The event was a testament to L'Osteria Bella's commitment to excellence and innovation. The enticing new menu, which harmoniously merges sustainability and delectability, invites diners to embark on a journey that blends tradition with contemporary twists. Whether it's the authentic Flavors, artistic presentation, or warm hospitality, L'Osteria Bella promises a dining experience that transcends mere consumption.
In case anyone is interested, L'Osteria Bella is situated in Asset Area 12 Hospitality District, Aerocity, New Delhi, Delhi 110037.
For more info +91 8130496069.