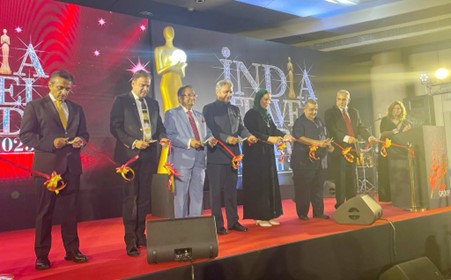 The India Travel Awards North 2023, held at the prestigious Hyatt Regency Delhi on July 25th, was an exceptional triumph, gathering together the finest minds of the travel and hospitality industry to honour exemplary leaders and achievers.
With an impressive participation of more than 12,000 votes in this edition, the event recognized the trailblazers, who made substantial contributions this year to the country's vibrant tourism landscape, setting new standards for the entire industry. It was a celebration of excellence and innovation, inspiring others to follow in the footsteps of these outstanding individuals. The awards process began with an online nomination that saw enthusiastic participation from across the sector. The thought-provoking nomination form encouraged participants to contemplate what sets them apart, resulting in over 203 different nomination categories, highlighting the diverse and dynamic nature of the Indian tourism industry. Voting was conducted with utmost care to ensure transparency and avoid any duplication, giving rise to a fair and unbiased selection process. After the completion of online voting, a distinguished jury, renowned for their expertise in the domain, diligently assessed and chose the most deserving individuals and organisations as award winners.
The event commenced with a remarkable keynote address by Chief Guest, VK Duggal, Former Governor of Manipur and Mizoram. He acknowledged the growth of the domestic tourism market but also stressed the need to address challenges such as pricing to boost inbound tourism. He urged the industry to focus on providing competitive pricing, seamless travel experiences, and sustainable practices to attract and retain international tourists, further elevating India's position as a preferred global destination.
The India Travel Awards North 2023 recognized several accomplished names in the industry,
including the following noteworthy honorees:
* Gallery of Legends Inductee: Ashwani Lohani, ex-Indian Railway Service officer
* DDP Trailblazer for 2023: Rajiv Mehra, President, Indian Association of Tour Operators (IATO)
* Wedding Tourism Ambassador 2023: Rajeev Jain, Founder & Director, Rashi Entertainment
* DDP Game Changer for 2023: Rikant Pittie, Co-Founder, EaseMyTrip
* Face of the Future: Isha Goyal, Executive Director & CEO STIC Travel Group
These exceptional leaders were celebrated for their dedication, innovation, and outstanding
contributions, which have played pivotal roles in shaping the Indian tourism landscape.
The ceremony also showcased exceptional achievements across various categories, including Best
Airline, Best Tour Operator, Best Hotel Chain, and more. This provided a glimpse into the immense
talent and dedication within the Indian tourism and hospitality industry, truly reflecting the vibrant
spirit of Indian hospitality.
SanJeet, Founder, DDP Group, expressed his delight at the event organisation, said, "Tonight's award recipients embody the spirit of excellence, creativity, and resilience. They have elevated India's status as a global tourism destination and showcased the true essence of Indian hospitality. From creating unforgettable experiences for travellers to empowering the workforce behind the scenes, these trailblazers have left no stone unturned in their pursuit of excellence."
India Travel Awards North 2023 is not just an event; it is a celebration of the outstanding contributions of individuals and organisations in the tourism industry, inspiring others to follow in their footsteps and continue to propel India's tourism sector to greater heights.
| | | |
| --- | --- | --- |
| S.No. | Category / Legend | Name of company |
| 1 | Woman leader in the MICE Industry | Laveena Bhatia |
| 2 | Best Woman Leader Sales & Marketing | Mansi Mehta |
| 3 | Best European Airline | Lufthansa German Airlines |
| 4 | Process Excellence in Visa Outsourcing | VFS Global Group |
| 5 | Best Offshore Resort for MICE and Wedding | Regenta Arie Lagoon – Negombo, Sri Lanka |
| 6 | Fastest Growing Tourism Board | Ministry of Heritage and Tourism, Sultanate of Oman |
| 7 | India's Fast Growing Tour Operator | Southern Travels |
| 8 | Best MICE & Wedding Operator | iCE Group India |
| 9 | Best Luxury Destination Wedding Hotel | Fairmont Jaipur |
| 10 | Most Professional and Fastest Growing GSA Group | Dex Group |
| 11 | Best European Tourism Board | VisitBritain |
| 12 | Best Visa Concierge | Udaan India |
| 13 | Best Outbound Travel Agent | Flag Holidays |
| 14 | Best Ticketing Agency | Belair, The Global Travel Company |
| 15 | Best Leased Hotel Chain in India | Summit Hotels & Resorts |
| 16 | Best Destination Wedding Hotel | The Ananta Udaipur |
| 17 | Best Sports Tourism Company | GREYNOMAD |
| 18 | Best Indian Airline | Air India |
| 19 | Best International Hotel Chain | Radisson Hotel Group |
| 20 | Best GSA | Group Concorde |
| 21 | Best Business Hotel | JW Marriott Hotel New Delhi Aerocity |
| 22 | Best DMC for Maldives | Yorker DMC |
| 23 | Best Online Bed Bank | www.GRNconnect.com |
| 24 | Best Upscale Hotel Chain in India | Fortune Hotels |
| 25 | Best Tour Operator | Thomas Cook India |
| 26 | Best Seafront Luxury Wedding Destination | Novotel Visakhapatnam Varun Beach |
| 27 | Best Corporate Hotel | Crowne Plaza Mayur Vihar |
| 28 | Best Inbound Operator Australia | Turtle Down Under |
| 29 | Excellence in Inbound Travel Services | Trail Blazer Tours India |
| 30 | Best National Tourism Board – India | Uttarakhand Tourism |
| 31 | Best Car Rental Services | Carzonrent India |
| 32 | Best Luxury Resort | Ananta Spa & Resort Pushkar |
| 33 | Best MICE Company | Mach Conferences & Events |
| 34 | Fastest Growing MICE Agency | Hi Walk |
| 35 | India's Leading GSA | Aeroprime Group |
| 36 | Best MICE and Wedding Hotel | Hyatt Regency Lucknow |
| 37 | Most Promising Hotel Chain | Infinitea Hotels & Resorts |
| 38 | Best Hospitality Management Services | Stay Pattern Hospitality Services |
| 39 | Best Destination Wedding Resort | Karma Lakelands Golf Resort |
| 40 | Best Outbound Tour Operator | Euphoria World Travels |
| 41 | Best Luxury Hotel in Madhya Pradesh | Anjushree Hotel, Ujjain |
| 42 | Best Emerging Destination Management Company | IDMC World |
| 43 | Best Japanese Restaurant | ADRIFT Kaya – JW Marriott Hotel New Delhi Aerocity |
| 44 | Best VISA Facilitation Company North India | Travel Mudra |
| 45 | Best Emerging Holiday Tech Company | Holiday Tribe |
| 46 | Best Luxury Holiday Planner | Staunch International |
| 47 | Best DMC & MICE Operator for UK/USA/Europe | Worldwide DMC |
| 48 | Best Boutique Business Hotel in Delhi NCR | Hotel Home In By Amrik Sukhdev |
| 49 | Best PSA For Cruise | Yorker Holidays Services |
| 50 | Best Leisure Hotel | Radisson Jaipur City center |
| 51 | Most Promising MICE Operator | T4 Initiatives |
| 52 | Best Wedding Hotel | KK Royal Hotel & Convention Centre |
| 53 | Best Family Destination | Malaysia Tourism Promotion Board |
| 54 | Best Business Hotel Haryana | Radisson Blu Faridabad |
| 55 | Best Emerging MICE Company | 5D Global Travel Solutions |
| 56 | Customer Service Excellence for Outbound Tourism | Travel2Agent Oneworld |
| 57 | Best Convention Hotel | Hyatt Regency Delhi |
| 58 | Best Travel Company – Group Tours | GT Holidays |
| 59 | Best Digital Marketing Agency for Hospitality | Internet Moguls |
| 60 | Best International Luxury Boutique Hotel Chain | Cross Hotels & Resorts |
| 61 | Best Hotel Classification & Auditing Company | Qualstar |
| 62 | Hospitality Partner | Hyatt Regency Delhi |